Optics of Opacity: The Cultural Imaginaries of Operative Images
Laliv Melamed's research project is dedicated to the study of the 'operative image,' broadly defined as an image that facilitates processes of knowledge production in the fields of science, state bureaucracy, and security. More specifically, tracking the circulation of images taken from optical systems such as satellites, closed-circuit cameras, drones, biometric data, infrared, x-ray, and GoPro cameras, Melamed argues for an emerging visuality that taps into a political ontology grounded in secrecy. In this study, the category of the operative is offered as a form of convergence of media cultures with the state modus operandi, and as a way to think the fraught intersection of power and mediation in societies of security.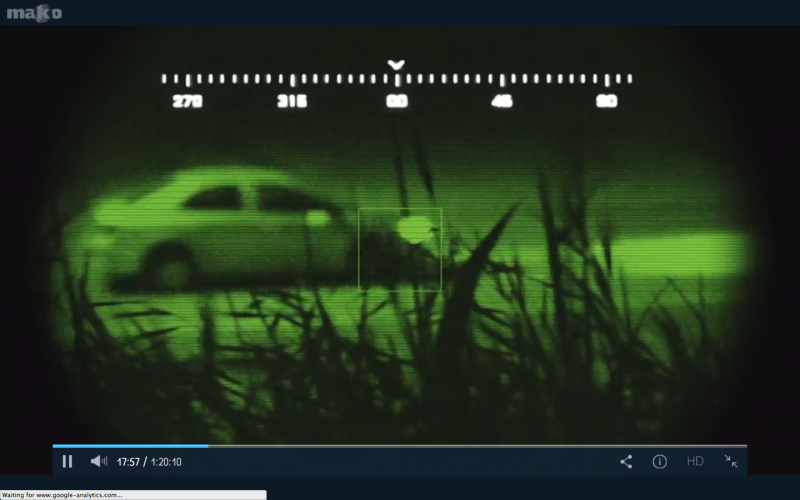 Fig. 1:
Screenshot from One Night in Ansariye (Omri Asenheim, 2017).
Fig. 2:
Daniel Mann, Untitled, 2018.
Laliv Melamed is an assistant professor of film studies at the university of Groningen. She is the author of Sovereign Intimacy: Private Media and the Traces of Colonial Violence (University of California Press, 2023). Her other writings appeared in Journal of Cinema and Media Studies (forthcoming), Discourse, American Anthropologist Review, New Cinemas, Millennium Film Journal, and Social Text Online, among others. Melamed specializes in documentary media and is working on questions of governance, politics and affect. Currently she is working on a manuscript tentatively titled Optics of Opacity: The Cultural Imaginaries of Operative Images, investigating military optics and aspects of state secrecy. In addition to her academic career, Melamed is a film programmer. She works for Docaviv Film Festival, and has curated programs for The Left Wing film and club and Oberhausen Film Festival.
Laliv Melamed was a postdoctoral researcher (2017-2021) at the Graduiertenkolleg "Configurations of Film" at the Goethe University, Frankfurt.
l.melamed[at]rug.nl