In Situ Optics. Screening & Discussion with Zachary Formwalt.
10.07.2019 • 18:00 – 20:00
Mal Seh'n Kino Frankfurt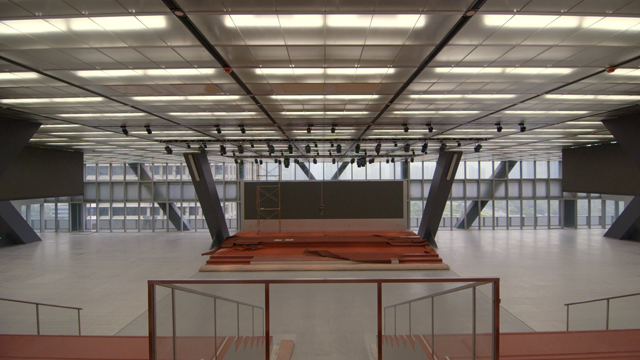 The Graduiertenkolleg "Configurations of Film" would kindly like to invite you to this collaborative screening event with our special guest, the artist and filmmaker Zachary Formwalt
Unsupported Transit (14', 2011)
In Light of the Arc (30', 2013)
While filming the recently built Shenzhen Stock Exchange Center, from outside in Unsupported Transit (2011) and from inside in In Light of the Arc (2013), Zachary Formwalt unveils the different visual economies embedded within this particular architectural and material infrastructure of the global market. Zachary Formwalt's audiovisual work explores this specific place through the relationship of optical media – especially in terms of photography and cinema – with urban infrastructure and the global market, unfolding the different regimes of (in)visibility at play in this space. The event "In Situ Optics" takes up the invitation to scrutinize these sites, such as the Shenzhen Stock Exchange, in which infrastructures, architectures and optical technologies configure representational spaces that contribute to framing our contemporary visual culture.
The screening will take place at Mal Seh'n Kino Frankfurt (Adlerflychtstraße 6, 60318, Frankfurt-am-Main). The screening will be introduced by the artist and filmmaker Zachary Formwalt, and will be followed by an open discussion.
Organised by Antoine Prévost-Balga.
Fig. 1:
In Light of the Arc, by Zachary Formwalt, Video still.