Zhen Zhang: Sinophone Cine-feminisms
07.11.2023 • 11/7/23 18:00 – 11/7/23 20:00
Goethe-University Frankfurt am Main, Campus Westend, Max-Horkheimer-Str. 4. Seminarhaus, Room SH 0.101.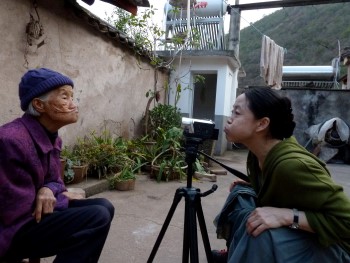 About the lecture
In this talk, I outline aspects of the research agenda in my new book Women Filmmakers in Sinophone World Cinema. Tracking and analyzing several women filmmakers' innovative and socially engaged work in both fictional and non-fictional modes, I explore the aesthetic and political possibilities of their trans-cinematic practices for a multifaceted feminist intimate-public commons integral to women's world cinema. Engaging the evolving Sinophone cultural and media studies and the idea of »Sinophone classicism«, I discuss several works that embody and complicate the notion of »Chineseness as temporal and mnemonic experience in the digital era« with a cine-feminist lens.
About the speaker
Professor Zhen Zhang teaches and directs the Asian Film and Media Initiative at the Martin Scorsese Department of Cinema Studies, Tisch School of the Arts, New York University. Her previous publications include An Amorous History of the Silver Screen: Shanghai Cinema 1895–1937, The Urban Generation: Chinese Cinema and Society at the Turn of the 21st Century, DV-Made China: Digital Subjects and Social Transformations after Independent Film (co-editor). She is the lead editor of the forthcoming Routledge Companion to Asian Cinemas.
This event is part of the lecture series »Sinophone Classicism«
Participation via Zoom
For the Zoom registration link, please click here.
The event is organized by the Forschungskolleg Humanwissenschaften, the Sinology Institute of Goethe University, and the Graduate Research Training Program »Configurations of Film« of Goethe University.